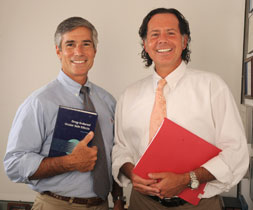 What we offer
Comprehensive Eye Examinations
Refractive surgery consultants, and co-management
Complete medical/diagnostic testing
Treatment and Management of eye diseases
Ergonomic evaluations
Vision Therapy
Low Vision
High Fashion Eyewear. Budget Eyewear. Safety and sports eyewear, prescription ski and swim goggles.
Contact lenses including astigmatism, colors and disposables, post LASIK contact lenses, progressive/bifocal contact lenses, difficult to fit contact lenses
Convenient office hours.
Monday thru Friday 8am-4:30pm
Our committment
Our commitment is to deliver the highest level of eye care with a combined 50 years of clinical, teaching, and lecturing experience utilizing the newest technologies.
We place great importance on treating our patients with courtesy, fairness, and respect. As a team, we pledge to keep patient needs as first priorities in everything we do.
We believe in working together with a sincere spirit of cooperation and teamwork. We believe this is the key ingredient to promoting the success of our practice for a pleasant and rewarding work environment.
Forms to Download and Fill Out Before Coming to our Office
Care Credit
We are fluent in Spanish, French and English